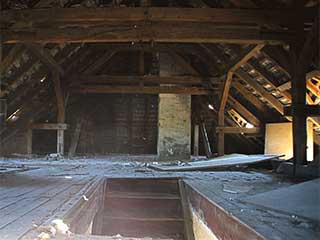 Why Get Your Attic Cleaned?
Quite simply, the most important reason to have your attic cleaned regularly is for your health and the health of your family. From mold to animal droppings, there are a variety of threats to your well-being that may have infected your attic. Trying to tend to ityourself can increase that risk, as well as make the bacteria spread to the rest of the household. It's best to let the experts take care of it, so you can rest assured that all the contaminates will be safely removed from your home.
Let The Professionals Handle It!
Cleaning an attic is a messy business, especially if it's been a while. You want to know that it will be done correctly, and ensure that your family's health will be protected. Our trained team will carefully and thoroughly work to make sure that every bit of the attic is taken care of. If your insulation has been damaged from the issue, we can also assist in taking it out and replacing it, so you won't have to hassle with finding another company to do so.
Using special sprays, the attic will be sterilized to get rid of any unwelcome germs and potential health threats. If rodents were the trouble, we'll clear out any droppings, urine, and anything else that can carry nasty bacteria. Even if it's been a while since they infested the area, it's very important to get it decontaminated. The diseases they brought in are still around, even if the rats themselves have gone. Aside from the health risk, it can also pollute your home with foul odors.
Even worse, if rat carcasses are about, even more pests could be attracted into your attic. Termites, maggots andall sorts of troubles can arise from leaving these things untended to. If your belongings are stored up there, they can also be affected by all this and ruined.
Don't Risk Your Family's Health
Call Attic Cleaning Oakland today, and get an attic cleaning scheduled now.
You can also count on us for:
Air Duct Repair and Replacement
Commercial Attic Cleaning
Crawl Space Cleaning & Repair