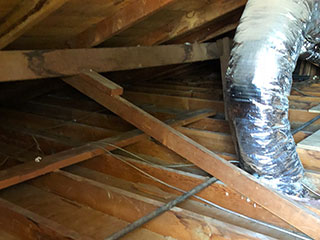 What To Look Out For!
You may not know where to start concerning whether your crawl space could use repairs, but there are a few easy signs to keep an eye out for. Should you notice a foul odor coming from the door to the area, or even that your allergies or other breathing troubles seem to be aggravated, these can both be signs of mold running rampant. You might be able to use a flashlight to look inside and note signs like standing water, mold discoloration, and warped wood. If that's the case, it's time to call in the professionals!
Why Should You Care?
While it may not seem to be all that threatening being under your home and out of sight, there are a lot of necessary components of your house stored there including water pipes, cables, and even insulation. If any of these are damaged, you could be facing rising energy spending and more.
Mold also weakens the structure, which your home is resting on! On top of that, mold spores are a health hazard, making it all the more important to get it taken care of. It may have started growing thanks to a water leak, or even animals that have gotten in and started nesting. This may also attract bugs which will further damage wood and otherwise.
We Can Fix It!
Whatever issues your crawl space may be having, we've seen it all before! Our professionals are happy to come out and get to work as soon as possible. With standing water we'll get it all pumped out and repair any structures that may be bogged down and sagging because of it to ensure everything is stable. As for the vapor barrier, if it's been harmed we'll get a new one installed right away. Vents and the door itself may also let in moisture if they're not airtight, so we'll install new ones if needed to keep the area safer.
Call Us Today!
Contact Attic Cleaning Oakland now, and we'll get to work on whatever your crawl space needs!