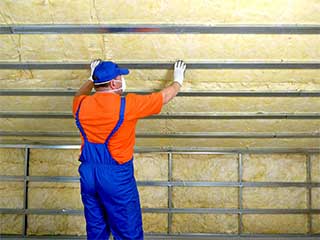 Proofing for Rats and Mice
Whether you live in a new or old house, rats and mice may find their way into your attic and cause distress as well as a potential infestation. Proofing for rats and mice is often the only solution to the problem, and the good news is that we can provide you with professional assistance to get rid of the rodents permanently. We cover all attic sizes and only complete the proofing after eliminating the present rats and mice.
Radiant Barrier Insulation
By opting for radiant barrier insulation for your attic, you can reduce radiant heat transfer and save money on your heating bills every year. Radiant barriers are a type of thermal, reflective insulation that block heat transfer by thermal radiation. With this kind of insulation, you can control the temperature in your attic and prevent it from becoming very hot in the summer are very cold in the winter. Our professional team can install a radiant barrier in your attic to improve heating efficiency in the winter and cooling efficiency in the summer.
Attic Insulation Removal
To reduce your energy bills and reduce heat loss from your property, it may be necessary to replace your attic insulation. To do so, you first need to remove the existing insulation, and this is a job best left to professionals. We can help you remove any kind of insulation, including batt and blown-in insulation. Besides removing the actual insulation, we also ensure that all the debris and dust are suctioned up safely and removed from your home. By opting for a professional team to remove the insulation, you can be sure that you avoid any potential health risks and contaminations.
Give Attic Cleaning Oakland a call now to schedule an appointment!
Looking for more? We also offer:
Cleaning & Decontamination
Radient Barrier Installation