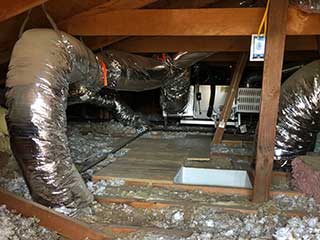 The attic is an important, but often overlooked, part of the home. It doesn't matter if you use it every day or never even lay eyes on it - problems may arise every now and then. It's up to you to keep an eye out for potential problems, such as rodents, mold, or insufficient insulation. Not only will your house be more comfortable with a properly maintained attic, it'll also be healthier and less prone to related problems.
Be Aware Of Rodents
Unfortunately, rodent issues in the attic are quite common. But fret not - we know exactly what to do about it. The first step, though, is for you to identify the problem. You may hear scratching from the attic, or you may actually see the creatures. Other signs could be insulation chewed to bits, or damage to belongings and other parts of the attic. Don't take signs of rodents lightly. They're destructive and unhygienic.
Mold Puts Your Health At Risk
Infections of mold in the attic, or in other parts of the house for that matter, are serious problems. It's unsightly, and can spiral out of control quickly. Furthermore, it puts your family's health at risk, as many health problems may be related to mold growth in the home. It may be hard to spot mold in the attic, especially if you don't use it very often, but do check for it every once in a while. We offer both mold prevention and mold removal services.
Lack Of Insulation Affects The House
If your attic is not properly insulated, your entire house could suffer. Higher costs for heating and cooling, an indoor climate that's hard to adjust, and unpredictable temperature changes are just some of the related problems that come with insufficient attic insulation.
Your house is your home and your haven - it deserves to be maintained properly and regularly. If you suspect that you might need help with your attic, don't hesitate to contact us!